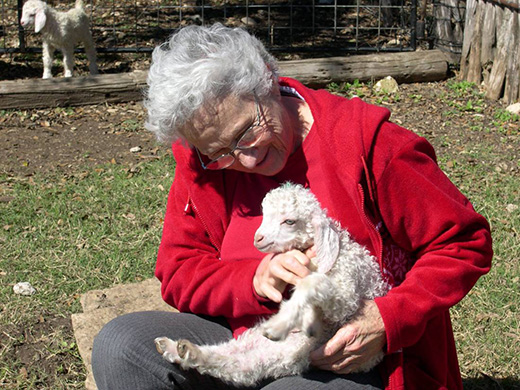 Author's Biography
Lora B. Davis Garrison is a woman who wears many hats.  She is a historian, storyteller, businesswoman, rancher, gourmet cook, newspaper columnist, folklorist, as well as a mother, grandmother and great- great- grandmother.  She has served as President of the Caddell—Smith Chapter of the Daughters of the Republic of Texas several times, President of the Texas Folklore Society for three years, she served on the Board of Directors for the Alamo Mission four years, also on the board of the French Legation Museum for two years.  She served as President of Texas Press Women District 4 in 1983-1984.  Born and raised a Texas ranch girl, with no electricity, no running water and an outhouse in the corner of the garden.  She learned to cook on a wood stove, chopped wood and hauled water when the cistern was dry. She road horseback during her second and fourth grades to be educated in a three-room schoolhouse.  She is a native of Uvalde County and a descendant of some of the first settlers in Texas and the Texas Hill Country.
She has been collecting oral history stories since 1979.  Some of her collection of stories appeared in her weekly columns in the Uvalde Leader News for ten years.  She was voted Woman of the Year by Texas Press Women in 1984.  Her stories have appeared in magazines, newspapers, in Texas folklore publications, such as "Hog Drover" in Hoein' the Short Rows in 1987, "The Ol' Red Rooster Learns a Hard Lesson" in Texas Journalist on Texas Folklore in 1999, "Susanna And Her Angora Goats", "Hog Drovers", "Courtship And Marriage", "A Calf For A Candy Stick", and "Grannie's Old Pickup Truck", in The Family Saga in 2003, "Cactus Jack Garner As Folk Hero, Vice-President Of The United States 1933-1940", in Folklore in All of Us, in All We Do, published in 2006.  Ranch & Rural Living Magazine requested that she write "Angora Pioneers, A History Of The Davis Family And The Angora Goat Industry" for the July 2000 issue. She wrote about Florence Fenley's history in "Oldtimers" in 1991, Published by State House Press, an oral history collection by Florence Fenley, on a W.P.A. Project in the 1930's.
Lora B. was a Storyteller at the Texas Folklife Festival in San Antonio for more than ten years.  She has taught Elderhostel classes on how to collect oral histories and how to pass your stories on to your family and grandchildren. She now spends most of her time writing and telling Pioneer stories in schools, museums, libraries and western festivals.
She has an educational background in Art, Fashion Design, Photography, Anthropology, Folklore and Creative Writing. She traveled the world with her late husband, Col. Roger W. Garrison, during his thirty year career with the U.S. Air Force.  They raised their five children in locations such as Guam, France, Thailand, Washington, D.C., Texas and numerous other states in the US.
She tells that in another life she taught in a Fashion Design School in Virginia and designed hats for Lady Bird Johnson, Alice Roosevelt Longworth, Mrs. Arthur Fiedler and many Senators' wives.
Lora B. has enjoyed living back on the family ranch where she grew up, between Utopia and Rio Frio, Texas.